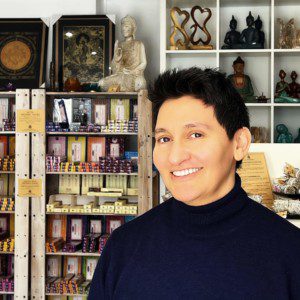 Awarness' The beginning of your journey
Over the past 30 years of my journey I have practiced and studied many different certified techniques  to evolve and share my knowledge and experience  of my own self development. I am eternally grateful for this wonderful opportunity to be here during the greatest evolution of human consciousness and times of change.
My journey began at a young age when my awareness of my true home was alive everyday in my consciousness. The remembrance of my soul home stirred a lot of questions and created a curiosity that sparked an infinite quest to find my own truth and purpose.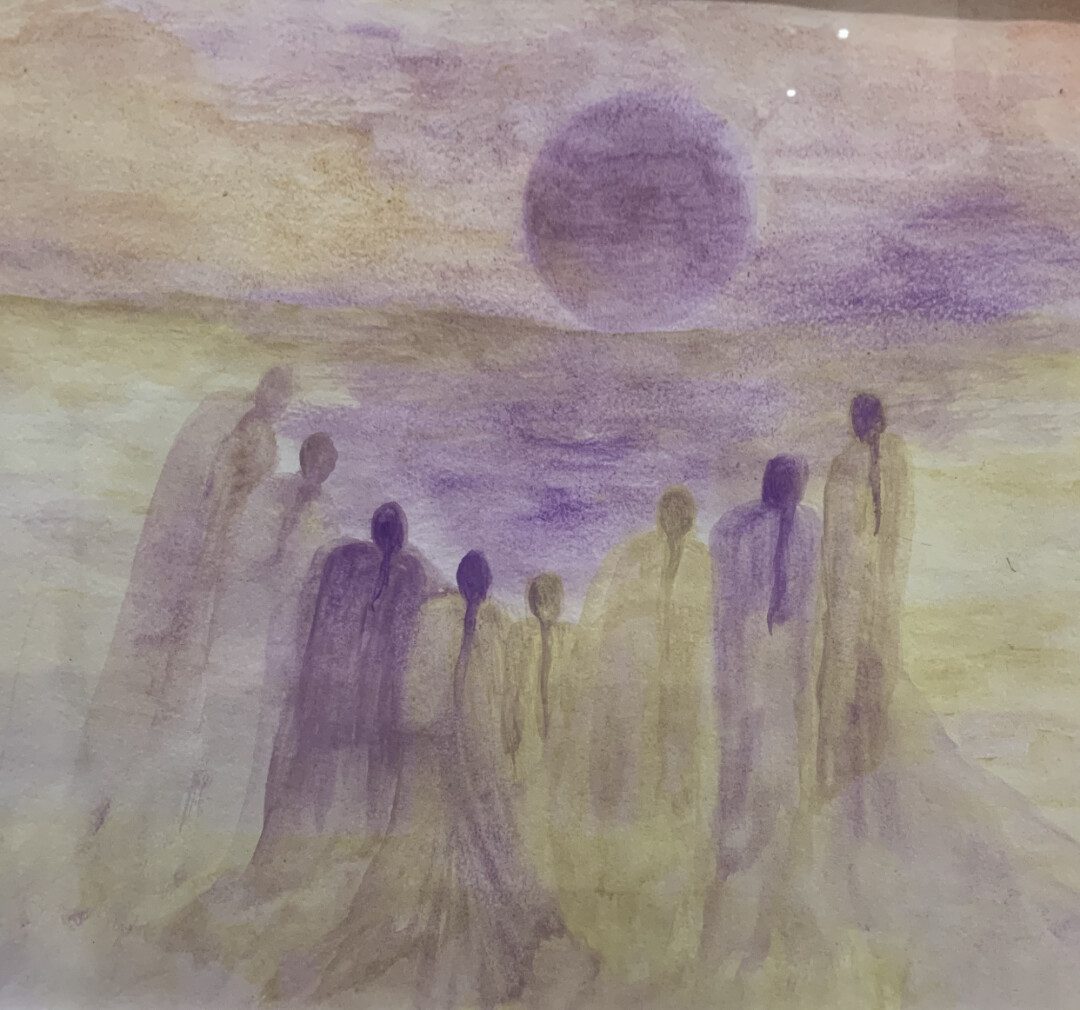 I used to paint my soul family often.I had such a clear picture of their presence and love in my life.
My SOUL FAMILY PAINTING
By Guytane G
I was interested in the human body and its remarkable ability to have its own consciousness. The ability of the human body to run on its own with all it's  complicated systems that collaborate together to keep your body alive and well.(our souls home)
My curiosity led me to study anatomy, physical therapy and recovery in California University of health and science. I received my certification. After a few years of practice I realized that most of my clients had issues with their mindset and emotional bodies as well as their experiences of their past. This sparked my interest in mindset and how how it plays out in your daily experiences.
As I lived in California at the time Tony Robbins  was all over social media and main teaching was on mindset and how you can change your life.
I attended his seminar and that experienced opened new doors for me.
I was interested in the mindset coaching but also had a thirst for deeper knowledge beyond the mind.
In California I  also joined  a poetry club that introduced me to Rumi, Kahlil Gibran, Donald Walsh, Ramana Maharishi, and many more authors of spiritual essence and self enquiry subjects. The  books I read made me realize the love and passion I had for the truth. The need to go to the east to meet living teachers and masters was my priority.
On my journey everything was always  at the right time and each experience and awareness lead me to my next experience. I had a friend heading to Nepal and she invited me to go along to Kathmandu. In Nepal I attended a retreat in a yoga school where I was introduced to my first spiritual teacher Petra Ruger a disciple of Barry Long a spiritual western master residing in Australia. I read a few of his books and was interested in meeting him in person in Australia in the near future.
On my trip in Nepal I met another traveler who was heading to India so I decided to join her she was going to Dahramsala to meet the Dali Lama. Now this trip was an incredible seeing India for the first time coming from a western back ground was shocking and interesting.
On my trip in Nepal I met another traveler who was heading to India so I decided to join her she was going to Dahramsala to meet the Dali Lama (14th). Now this trip was an incredible seeing India for the first time coming from a western back ground was shocking and interesting.In Dharamshala there were many Buddhist temples and monks in town and all were preparing for the arrival of Dalai lama (14th).
We proceeded to the temple where he would give a live Satsang (Spiritual talk) as we waited outside a kind sparkling soul arrived very humble, soft and wise his awareness of his body and soul beamed through him as a light that touched all around and put you in a deep silence. Dali Lama presence created such peace and love that no words can describe the experience.
This was my first experience of silence of the soul.
My next part of my journey lead me to Thailand where the land of Buddhist temples and many Vipassana meditation centers.
My first Vipassana meditation was so profound deep meditation of 10 days silence that it took me another week to be able to speak. The beauty of the silence I experienced touched my soul and my mind just surrendered to my union with my soul.Over the years I have participated in many Vipassana silent retreats internationally completing 10, 20 and 30 days silent retreats.
As my journey was coming to an end in Asia I was preparing to go meet Barry long in Gold Coast Australia.
Barry long had such a deep and profound presence that it shattered my existing reality and helped me re- create myself to my original blue print his knowledge and wisdom was beyond this reality and very intense.
This experience left me in Australia for a year trying to find myself and attend as many workshops by Barry Long
In Australia I was invited to Brazil to see ancient amazon healing practices by shamans, macumba spiritualists and Rosa Cruz teachings capoeira practices.
I stayed in Brazil for a year and meet many spiritualist practices and learned about shamanic healing, healing circles and occult ceremonies.
My journey proceeded to Lebanon where I met Satguru founder of Isha Yoga for a satsang in a huge hall full of participants. Satguru had a magical and mystical presence and carried a very interesting vibe of transformation, his  presence had a very impermanent state of being as if he was using his body just to share his knowledge of his soul.All my in person experiences with these following Master's, Gurus and teachers of spiritual essence transformed and prepared me for my next experience.
In Lebanon I was also invited to meet Anna one of the teachers of Rajyoga (Brahma Kumaris) a teaching by  the founder Brahma Baba a guru that passed away many years ago and left his teachings to head Dadi's (Female spiritual leaders) to run in Mount Abu India.
Today the  the Brahma Kumaris organization have centers internationally.Their teaching is based on knowledge of your journey, tree of life  and practices to stay in the present moment through meditation and contemplation.
I meet Dadi Janki one of the main teachers of Brahma Kumaris who was a student of Brahma Baba at a very young age she was a beautiful soul so dedicated to the teaching sharing her knowledge and experience she had with Brahma Baba when he was alive and how they transformed their unconscious mind to stay always in present moment through service and dedication . Dadi Janki had deep knowledge about the soul and was always humbly available to the public at her age.
When I returned to Lebanon I attended a meditation by Priyan a disciple of  Amritananda Mayi Ma  known as Amma a Guru that resides in Kerala India known as the hugging saint.
I was so touched by her humanitarian love and compassion and her endless service to humanity with her wisdom , non profit foundations ,  charity and endless hours of hugs she gives,  some times even for a few days without leaving the stage.
Amma shines with the unconditional love of a divine mother and embeds the energy of the  ancient scriptures and wisdom in her daily life. Amma shares her love and compassion for humanity through her endless hours of service.
I was invited once again to meet Amma in person at the Ashram in Kerala.
At Amma's ashram you get Darshan (Divine Huge)  everyone around the world goes to get a huge. Amma has hugged over 37 million people in her life.
My first Darshan was incredible it was like being hugged by the universe everything in my mind went blank and I felt that I was in night sky with the stars and the moon.
Amma hugged my soul!
I stayed at amma's ashram serving and helping her non profit foundations for a few years and for the first time in my life I had a spiritual family.
During my years at the ashram I learned about being humble, of service and unconditional love from Amma.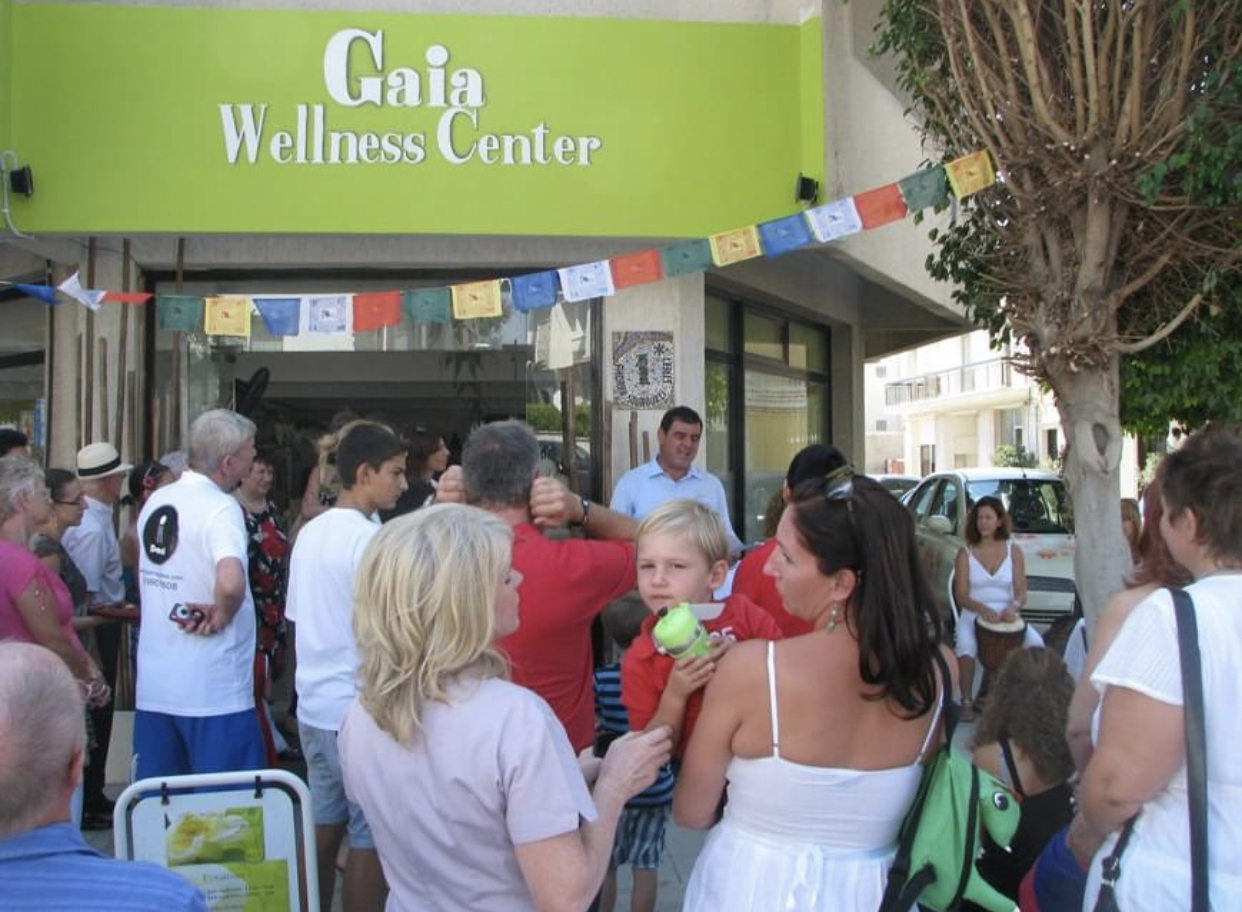 Amma always teaches us to go and shine the light within us to the world by doing a service that resonates with our soul and purpose to remind others of our light and love on our individual journey.
This is where I decided to return to Cyprus where I resided at the time to open a Spiritual center that assists others on their journey of self discovery.
This was the Birth of Gaia Center and the grand opening on 15th September 2012 in Larnaca, Cyprus.
Over the years Gaia Center has evolved to a beautiful space offering services, healing, courses, workshops, seminars and lectures. We also  have  interesting esoteric shops in Larnaca and Limassol offering a large variety of crystals, incense, tarot cards , aroma oils , smudge sticks, palo santo and much more.You can shop in person or visit our website.