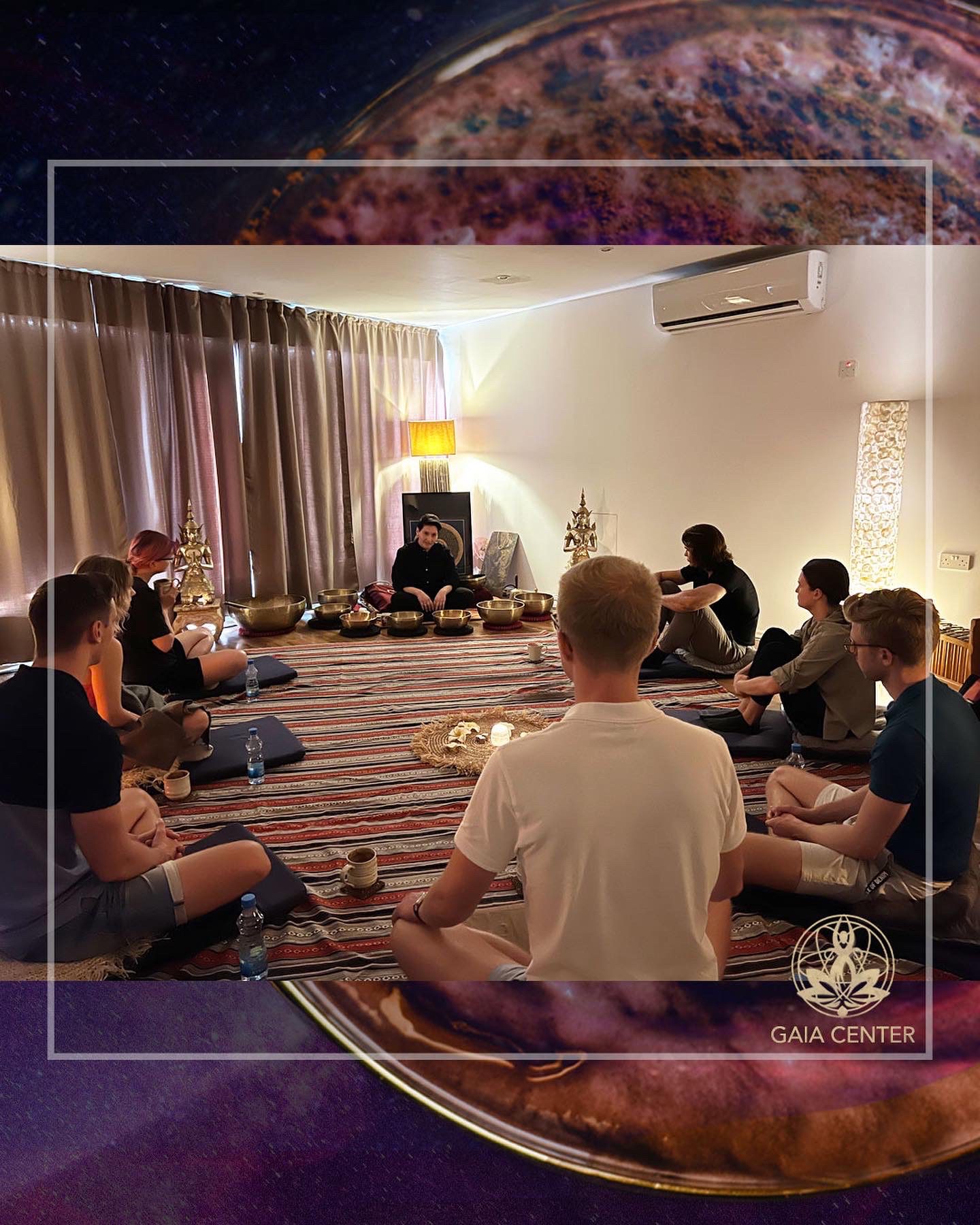 CACAO CEREMONY GROUP
Working together to create a more conscious understanding of our journey and using our knowledge to upgrade ourselves by serving humanity.
Guytane G
CACAO CEREMONY
_______
Duration: approx. 2-3 hours
Facilitator | Guytane G.
Standard Participation Fee: €35 per person
Private Groups Fee: €55 per person
Individual session : €150 per person
Location: GAIA CENTER | Cyprus | Limassol
• Please remember, you need to stay till the end to close the space.
_______
WHAT WE WILL WORK ON DURING CACAO CEREMONY
• We start with the Guided Opening ceremony to open the sacred space (connecting with Gaia-Mother Earth)
• Clearing and protecting our sacred space
• Create our intentions of the ceremony (personal & global)
• Guided meditation with sound healing bath
• Deep sharing and discussion of our experiences and what has come to our attention (for those who is willing to share)
• Guided Closing ceremony and gratitude prayer
_______
WHAT TO WEAR
° Wear comfortable clothes.
° Bring a pair of socks (make sure its clean). Personal blanket to cover yourself. Yoga mat if you prefer to use your own one.
° We provide matt and cushion.
_______
PREPARATION
• Do not eat too much, preferably light meals.
• Make sure you do not drink any alcohol. Even the day before.
• If you take any form of medications please inform the facilitator if you can attend the ceremony
• Do not drink more than one cup of coffee that day or any caffeine or energy drinks.
The night before make notes of your intention to join the ceremony for personal or global intentions.
_______
WHAT IS INCLUDED AND USED FOR THE CEREMONY
We provide for the Ceremony:
• Ceremonial Cacao Drinks, Intentional 100% Beeswax Candles, Californian White Sage smudge sticks, Palo Santo Wood from Peru, Tibetan Singing Bowls set and other intention materials.
_______
CACAO CEREMONY | THE JOURNEY WITHIN
_______
The magical gift of Cacao allows you to open your heart space and get in touch with your intuition. Guiding us through our higher self to the parts which needs healing.
With our busy lifestyles and daily routine we forget about our higher spiritual mission. During this ceremony the facilitator holds the energetic space allowing you to experience the full process of your sacred journey.
Please remember this is a sacred journey and your attendance has to have a spiritual intention.
_______
WHO WILL BENEFIT FROM THE JOURNEY
If you are someone who wants to connect with your intuition and get your own answers by discovering what obstacles, you have created for yourself.
Joining us on the Cacao Ceremony allows you to connect to your heart space allowing you to heal and get more clarity.
_______
WHICH TYPE OF RAW CACAO WE USE
For the sacred Cacao ceremony we use "ritual cocoa" or raw cacao mass. Which is full of beneficial and energizing ingredients due to minimal processing of the bean roasting.
Depending on the country of origin the taste of cacao masses and the effect can vary.
For our Cacao Journeys we gently prepare our cacao drinks from raw cacao that comes from Peru and Bali. Out of our experience and feedback from our participants these are the best types.
_______
IF YOU HAVE ANY QUESTIONS FEEL FREE TO CONTACT US
_______