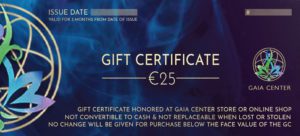 AT GAIA CENTER WE OFFER A LARGE VARIETY OF GIFT VOUCHERS .YOU CAN CHOOSE GIFT VOUCHERS FOR PRODUCTS OR SERVIVES.
WE ALSO OFFER HOUSE DELIVERY FOR YOUR ORDER OR IN PERSON COLLECTION.
YOU CAN LEAVE A SPECIAL MESSAGE FOR THE GIFT WHICH WILL BE DELIVERED WITH THE PACKAGE.
OUR VOUCHERS CAN BE OBTAINED IN PERSON OR CAN BE SEND DIGITAL .